One of the most critical and fundamental steps towards the success of your website are the sources of traffic visiting your web pages.
Depending on your Marketing strategy, there could be multiple channels that drive traffic consistently to your website. Some of the essential traffic sources that many bloggers and businesses consider is traffic from search engines. This is broken down into organic traffic, paid traffic (more on this later ), social media traffic, traffic from other referring websites in your niche and traffic from PPC sources.
When you place a keyword or phrase in the search bar of a search it is important to remember that search engines do not examine the world wide web; rather it is examining the archives, records or indexes that a particular search engine has. Hence, the results you get from the search engine are closely dependent on whether the tags, captions, descriptions or files names match what you are searching for. The results you get also depend on how relevant or popular a page is, which involves several factors such as how many external links point to it, whether it is popular on other platforms or websites, etc.
Types of Search Results displayed by the Search Engines
Among these traffic channels, search engine traffic is known to bring in the bulk of the visitors, mainly because users are constantly searching for any given query and search engines constantly try and provide users with the best results possible at any given point.
Queries that search engines such as Google, Yahoo and Bing process are broadly differentiated as organic results, local search results and paid results.
Google alone gets over 88 billion searches per month, making it a highly popular search engine for users. Globally, is it is known to have over 34,000 searches per second which mean hundreds and thousands of people would have conducted searches on this popular search engine, many of which would be related to the type of goods or services offered by your business.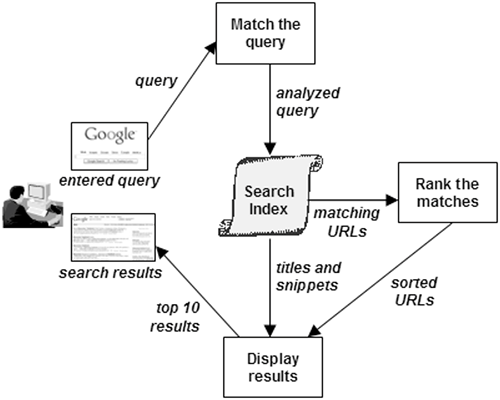 Thus,
having your business displayed in the organic search results is as important to your business as having your business located on a busy street corner. Search engines are therefore the most popular platforms where users come to search and businesses like to be found.
Organic Results
One of the ways to get your business to appear in the search engines is through organic or search results.
Essentially, when you search for a word or phrase, the search engines match your query with the millions of web pages in its index and display a list of sites that are related to your search phrase and therefore relevant to you.
Often, this list may involve hundreds of pages, as the business continuously work to improve their websites to improve its position on search rankings. Organic results are thus defined as natural results or unpaid results as displayed in the search engines – those that are not influenced by any 'paid search' or 'sponsored results'. These are thus known to be highly trusted by users as they are not influenced by paid means of advertising.
Search engines rank organic results on a whole lot of factors and algorithms based solely to provide the user with the most appropriate or relevant results to his search queries.
Paid Results
If you want better control of your business listing (and to ensure that it appears on the search engines), you need to look at paid adverts.
Adverts displayed in the search engines are 'paid ad results that display over the organic listings on a search result page. Search engines such as Google clearly term these results as 'Ad' in Google, 'Ads Related to' in Yahoo and 'Ad' in Bing clearly highlighting to the user that these listings are a result of advertisers or PPC (Pay Per Click) campaigns offered by the search engines.
So although these appear at the top of the page, it is clear to the user that these are sponsored results thus differentiating them from organic search results.
Local search results
Local search results is another way that search engines use to target customers that are closest (geographically speaking) to your business.
There is a huge chunk of users undertaking searching to look for reviews of products and services in their local area. Local searches comprise 20% of the total searches for products, goods and services on Google.
Organic local listings are thus a great way to reach out to local customers searching for businesses such as yours. Local search results also present the address of your business along with a corresponding map on the right side of the page pointing to the location of your business.
The map listed local search results also form a part of the organic listings displayed by the search engines.
How your website will benefit from appearing in the organic search results
Getting ranked higher in the search engines will give your business better visibility and generate better leads. If your business isn't ranked on top of the organic search results, customers may not even find you.
* Google itself has claimed that users are more likely to click on organic search results than on the ads it displays. A study conducted in 2012 showed that an average of 81% ad impressions and 66% clicks to these ads were noted when there was no organic result associated on the first page.
* Ranking high on the results of search engines is one of the most popular means of garnering new and returning visitors to your website. For many ranking on the first page, this is responsible for driving a majority of the share of visitors that a website would receive.
* Organic results can help your website display in the search results for multiple queries, which means that your website or business can appeal to a broader audience.
* As you are not dependent on paid sources, your business or website need not continuously spend on high recurring ad cost, that sometimes does not lead to conversions or lead generation.
* Organic results do not limit your website's listings to a fixed spend or budget, therefore perpetually driving visitors to your website.
* Organic results are much more trustworthy to the user which leads to better sales conversions or lead capture.
How can you get your website to rank better in organic results?
To improve the organic results of your website you would have to concentrate on two broad categories — one being the on-page factor and the other is off-page— both important facets of Search Engine Optimisation.
ON-PAGE
On-page factors refer to better optimisation of web pages to make your website search engine friendly.
This begins with creating a web page that is well-structured by properly written URL structure, quicker loading pages, properly-linked internal web pages and well-written meta titles and description.
Content plays a very important role in improving organic results — content which is resourceful and well-written from an SEO's perspective, that is. This means that the content should be structured with heading tags, keywords that need to be ranked and properly placed along with LSI keywords as well.
The use of multimedia such as videos or images (using proper Alt tags) is also vital.
For local searches, it is important to have the name of the business, address and phone properly mentioned along with a map of the business verified either by Google or Bing.
Search engines also love fresh content, therefore, setting up a blog with regular posts is essential. This also gives you the opportunity to diversify into several other keywords that you want to rank for.
The presence of social media on your site and also your active presence on various media platforms is another great signal as well. Before you set out to rank your pages in the search engine it is very
important to analyse the keywords you want to rank for in the organic results. Tools such as the keyword planner will give you a clear idea on the number of searches keywords have each month. Picking out keywords requires plenty of research as you wouldn't want to compete against high traffic keywords that have very little relevance to your website. Rather focus on target specific keywords which are less competitive and gives your website the best chance to rank.
OFF-PAGE
Beside on-page factors, there are also plenty of off-site factors which search engines consider in its algorithm to rank in the organic results.
Backlinks built over time by other web pages linking to your website is among one of the many other factors. Backlink building is a whole other subject altogether which we will not touch upon here. However, remember that it does play a vital role in establishing trust and authority on search engines.
Social signals are another inevitable aspect of off-page optimisation. The more the interaction, the better it is for search engines which take this as a positive indicator of the content displayed on your web page. And the more the buzz your web pages or content create, the better the indicator of how much users like what they see. This is known to be popular with search algorithms. It is also often seen in the search engines that results are derived not on how factual a page is, but on how popular it is.
Why you might need an SEO expert
Search Engine Optimisation thus requires a well-strategized and balanced approach that will lead to proper traction in the search engine's results. An SEO expert will, of course, be able to help you better by devising a strategy based on current updates rolled out by the search engines. Since the changes made by the search engines are constant, your business would require an expert to work on generating the right organic results.

It is only natural that you may not be aware of the most relevant keyword searches most suited for your business or how to structure your website to capture leads or even improve user interaction on the site to reduce bounce rates. This is where an expert in the field of digital marketing can be of help.
Why Organic Results Still Matter
Search engines are constantly endeavouring to provide accurate results to their users. Selling adverts is secondary to them mainly because users will only use a particular engine if they know that they can get the right responses to their queries and trust that they are accurately finding what they came looking for. As the users follow so do the advertisers on those platforms.
Although you may choose to diversify to other traffic sources, there is a high possibility that your organic visitors constitute the bulk of your new and returning visitors as organic results work to get in relevant traffic.
In some capacities, it is the paid search ads that perform similarly.. but only for targeted conversions and not mass traffic flow. If you aren't doing well on your paid ads and are looking to drive mass traffic flows to your website, an organic ranking is a strategy you must adopt.
Although you may be driving traffic from social media platforms such as Facebook and have been paying less attention to organic results, your website or business remains fully dependent on a single referral traffic source which is what marketers don't really recommend.
These platforms keep changing how they treat external URLs or websites and more than often reduce the organic reach of third party sites without any adverts. Yes, the same is true for search engines such as Google as well — their regular updates in the algorithm does cause shifts in ranking.
However, if you know what you are doing, there is a good chance such shuffles will not affect your traffic. There is also the reach limitation factor. With social media and most other similar traffic sources, it is not often known what your audience is looking for and without any data, it is difficult to build a diverse digital marketing strategy for your website. Also, it is well-known fact that very limited number of users prefer to leave the social platform to browse a particular link. And paid referral sources only point when you constantly fund campaigns. The moment the meter runs out, there is a staggering decrease in traffic failing to create long-term association and loyalty to your website or business.